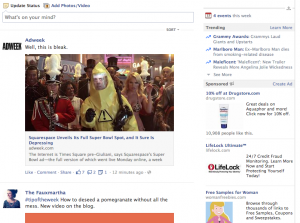 Facebook just announced new changes to what content shows up in your News Feed. This latest change will affect mostly Facebook Pages. As  CNET reports: "This time around, the social network warned Page owners that it would show their text-only status updates to a smaller number of their followers". This change was influenced by the behaviors of Facebook users who are more likely to interact with content if it is posted or recommended by a friend.
So what does this mean to a Content Marketer? How do you make sure that your content is showing up in your follower's feeds? The key is to focus beyond the posts to your Facebook page and think about how your content is broadly positioned and shareable. Facebook prioritizes the articles that friends post to the News Feed, so here are several tips to keep in mind:
Create quality and focused content that addresses your customers needs and interests. The number one rule when creating content: give your customers something worth sharing.
Socialize your email newsletters by making it easy for your customers to share your newsletter content on their social media platforms. Make every article a shareable item.
Use promotions to reward and encourage sharing. Sometimes getting people to share your content can use an extra "push". Consider running a sweepstakes or provide a coupon to everyone who shares.
Make your content more visual. Adding more pictures and videos in your status updates will not only brighten up your follower's News Feed, but it will help your content get noticed and shared by your followers.
Encourage conversations by posting questions. Ask meaningful questions that require your followers to provide thoughtful responses. Repost the conversation on your blog and in your newsletters to draw more people into these conversations. Facebook makes sure conversations with lots of comments reappear at the top of user's newsfeed.
 Write more articles. The Facebook News Feed changes minute by minute, so remember posting content regularly, but not too often is important.
Overall, if you focus on creating quality content that encourages your follower's to share your content, your content will continue to be seen in Facebook News Feeds.