Prescribed Marketing for Channel Partners
---
The Next Generation of Automated Content Marketing
Empower your partners to build and optimize digital channel marketing strategy and execution, accelerate demand generation, and capture and close leads.
Just Because Content is Available Doesn't Mean it's Being Shared
---
A Simple, Customizable, Step-by-Step Channel Marketing Plan
At ContentMX, we provide a prescribed marketing program for partners using simple, customizable, step-by-step marketing plans that we help you to create. No need to produce special content. We can tap into the materials you already have, sort them into weekly campaigns and put them into context that partners can thereafter customize and distribute.
New Content Every Week Keeps Partners Engaged
---
Every week your partners will receive a message highlighting new videos, white papers, case studies, infographics, thought leadership articles, lead capture forms, training materials and more to publish to their end customers and prospects. This new content is provided in an elegant, prescribed and personalized manner allowing partners to customize it if they want, or to simply follow along and publish directly to their blog, email lists and social media. Each partner is also on their own timeline with their own unique login to the ContentMX platform.
---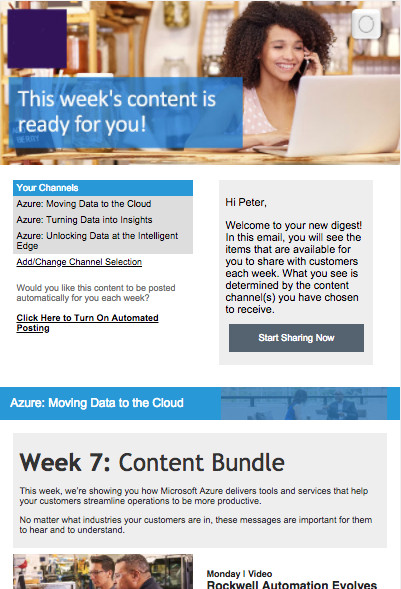 A Proactive Approach that Impacts Your Bottom Line
This new solution quickly impacts your channel, creating a "new behavior." Partners will now wait with anticipation for new content campaigns to arrive every week. They will go from casual observer to engaged marketer, learning and promoting your business each step of the way. Now even that 1 person or "no person" marketing department looks professional. And, you can track all of their activity and count the leads.  
---
An Editorial Team That Makes it All Happen
Our editorial team works with you to identify the content in your organization and organize it into channels, themes and weekly episodes. An editorial calendar is produced for your approval. We put it all into context and produce the materials that surround it such as background graphics, email banners and layouts, tweet and Facebook updates, lead collection forms, and more. All you need to do is point us to your content. If needed, we can also produce new content for you, including infographics, ebooks, white papers, and hero videos.
Comprehensive Onboarding, Training and Support
Our team is responsible for onboarding and training your partners. We work with you to deploy a series of marketing and outreach campaigns that will yield the highest level of adoption. The onboarding process includes:
Custom branded landing page to provide sign up form, account login and support resources

Outgoing email and telephone contact to invite partners to enroll

Weekly and on-demand webinars for getting started and ongoing best practice

One-on-one training and account setup sessions

Online training materials including guides and videos available on demand

Repeat contacts made to inactive partners by phone and email.
---
Advanced Features Provide a Complete Solution
This platform offers many advanced features that make it a state-of-the-art marketing solution. This includes:
Materials that automatically incorporate partner branding

Gated campaigns that require contact information to be collected before access is granted

Incentives provided through goal setting and gamification related to the sharing, emailing, and downloading of materials

"Themes" transform your content into logical, story-driven campaigns over multiple weeks

Segment content for distinct business areas into "channels" and allow partners to select the channels that best fit their interests and target customers

Reporting for partners that tracks all activity on published content and provides lead scoring

Reporting for vendors that provides detailed analysis of partner engagement, content popularity, posting trends and audience reach

Single sign-on through popular providers like Microsoft, Google, and Facebook. Or, customized to your platform.