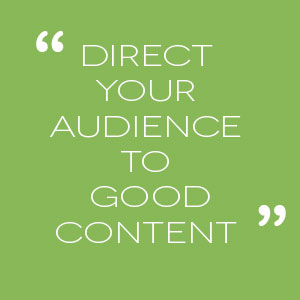 Direct Your Audience to Good Content:
When we say direct your audience to good content, we mean two things. One, make sure the content you are publishing is easy to find. Second, make sure that content is good content.
You are putting in the time and effort to create curate, and share all this great content with your customers using the Butterfly Dashboard, so it is important to make sure that your customers can easily find what you are saying.  Directing your audience to your great content is so important.
Is your content easy to find? Is it easy to find your blog from your homepage? From your Facebook page? Are there a lot of entry points on your website that will draw your customers in to read more?
Put yourself into your customer's shoes and navigate your website and social media platforms as they would. The easier it is to find your content, the easier it is for people to share! Bring that wonderful customer service they experience in the real world to your online world.
Secondly, make sure the content you are publishing will resonate with your customers. Be the go-to source for your customers! Whether you're sharing a funny joke, an article that talks about the latest trend, or writing a blog post on your opinion of….. Make sure it is good content that they can connect with. Publish content that will pull your customers in and inspire them to share.
Direct your audience to good content and they will want to come back for more!