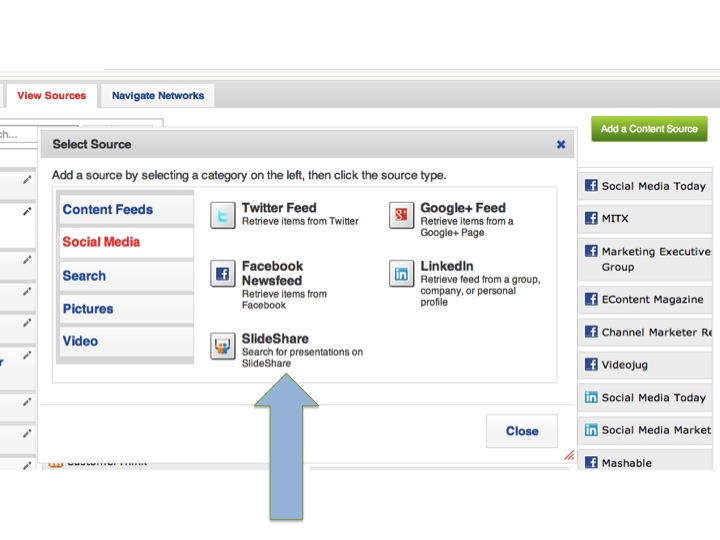 ContentMX is excited to announce SlideShare as a new content source. Now users can easily discover and share presentations from SlideShare using the ContentMX dashboard. SlideShare is the "world's largest community for sharing presentations and other professional content", according to SlideShare.net.
To use SlideShare as a Content Source:
1. Click on Add a Content Source, left hand side of screen
2. Click on the category Social Media to find SlideShare as a content source, along with Twitter Feed, Facebook Newsfeed, Google+ Feed, and LinkedIn
3. Click on SlideShare and retrieve a presentation by a tag, user or search.
4. Once you find the presentation you need, save as a content source.
SlideShare is go-to resource for us and for many ContentMX users. Users use SlideShare as a presentation, selling and research tool. It is a wonderful resource to search for new and informative content, to stay on top of industry trends, and to display your own content in an exciting and visual way.
Here are a few articles about SlideShare, how to use SlideShare in your content marketing strategy, as well a few content marketing lessons from Kevin Spacey (in slide form, of course):
SlideShare: The Quiet Giant of Content Marketing via Forbes
How to Use SlideShare for Your Content Marketing via Business2Community
Content Marketing Lessons from Kevin Spacey via SlideShare
Have questions about SlideShare or ContentMX? Ask us on Facebook or Twitter.