What is a Complete Content Marketing Strategy?
and what does it mean to have a complete end-to-end solution?
Educating customers and demonstrating your understanding of their key issues is the way to win business. This is done through a persistent and frequent content marketing strategy.
Set Your Strategy
The content marketing journey begins with setting your strategy. Asking the right questions to understand your needs before you start producing content will put you on the path to success.
You can produce your own strategy, but it can be very helpful to bring in external resources to help provide the perspective and expertise needed to do the job correctly and completely.
Ask the Key Questions
Here are some of the key questions to answer as you think about a complete content marketing strategy:
Who is your audience? How would you characterize the people that would be reading your content?

What are the pain points your solution solves?

What are the current trends in your industry? 

What type of content do you need?

How will your content map to the buyers journey?

How often will you (or should you) publish?

Where will you publish?

Which existing industry publications will host my content?

How will you measure success?
As you can see, a full content marketing strategy goes well beyond the writing of blog posts. The success of your strategy hinges on maintaining a true end-to-end content marketing process that puts your plans into action.
The 6 Key Components of an End-to-End Content Marketing Strategy
60% of executives read an email newsletter as one of their first three news sources they check daily. (Quartz Global Executives Study)
#1Content marketing (along with trade shows) is considered the top marketing activity with the greatest impact on revenue for technology companies. (Bizable, State of Pipeline Marketing Report)
Custom Content Written for You, in Your Own Voice
We work with you to define the exact topics that fit your business goals. We then write new, original and relevant articles for you each month to include in your blog, newsletter and social posts.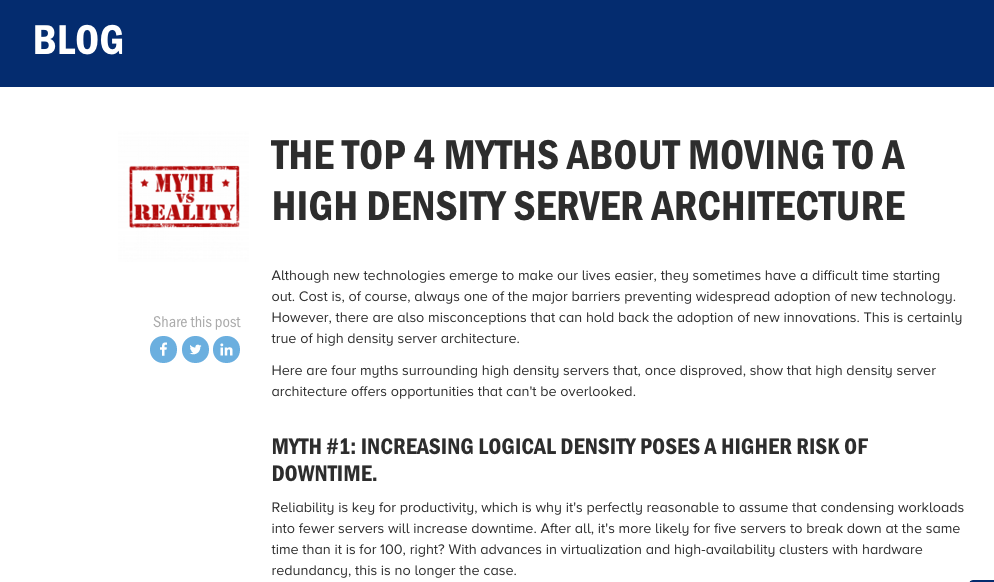 ---
Learn More
Curated Content Picked from Relevant Sources
Each week you will receive a new set of hand-selected articles that come from trusted sources within your industry and marketplace. You pick the ones you would like to publish to your blog, newsletter and social media – or we can automate it for you.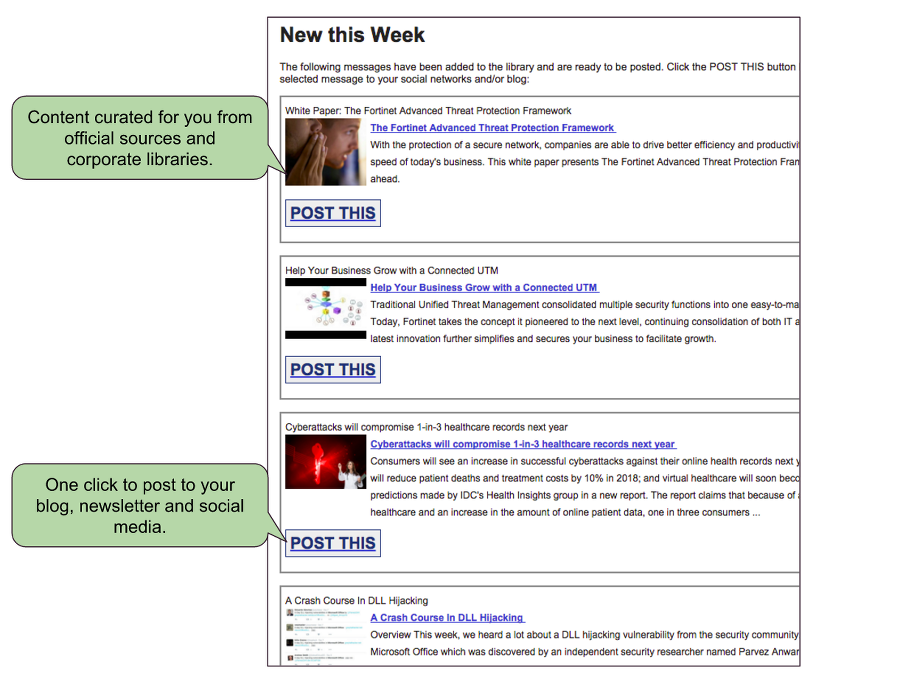 ---
Learn More
Publish to Multiple Destinations
Click on any curated or custom content and easily publish it to multiple locations, including your blog, newsletter, website, and social media.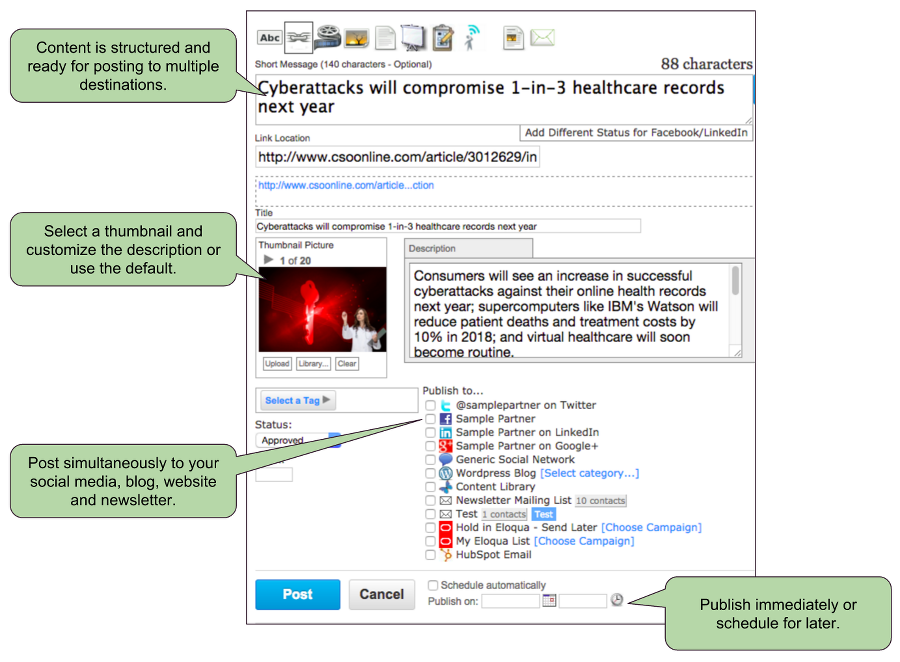 ---
Learn More
Newsletters Built to Perform
Create and deliver mobile-friendly, socially-enabled email newsletters. Easily pick curated and custom articles from internal and external sources or let content flow in automatically. Templates can be customized to meet your exact branding and design requirements.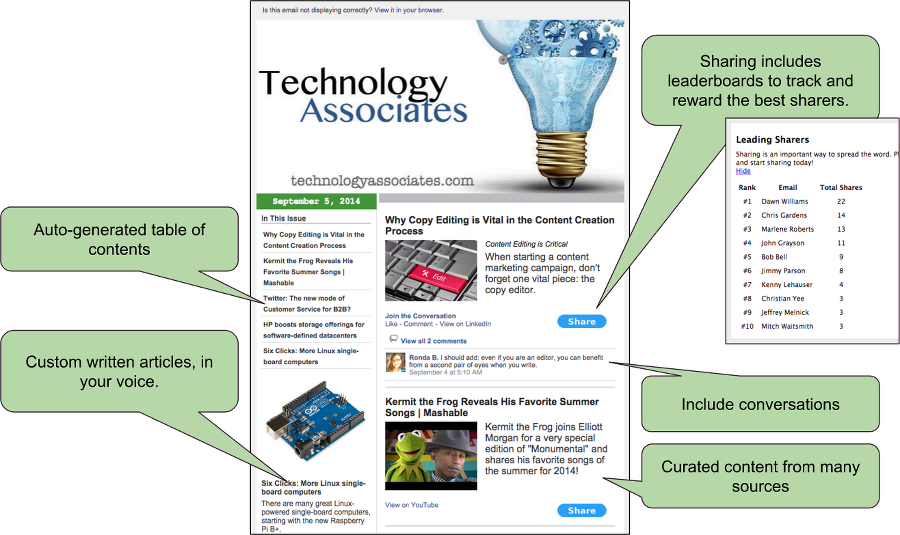 ---
Learn More
Sales Intelligence with Active Lead™ Reports
Leverage content to reveal recipient interest that can influence a sales call. Quickly provide sales intelligence to your sales team by turning your email marketing efforts into actionable sales information in the form of an Active Lead report.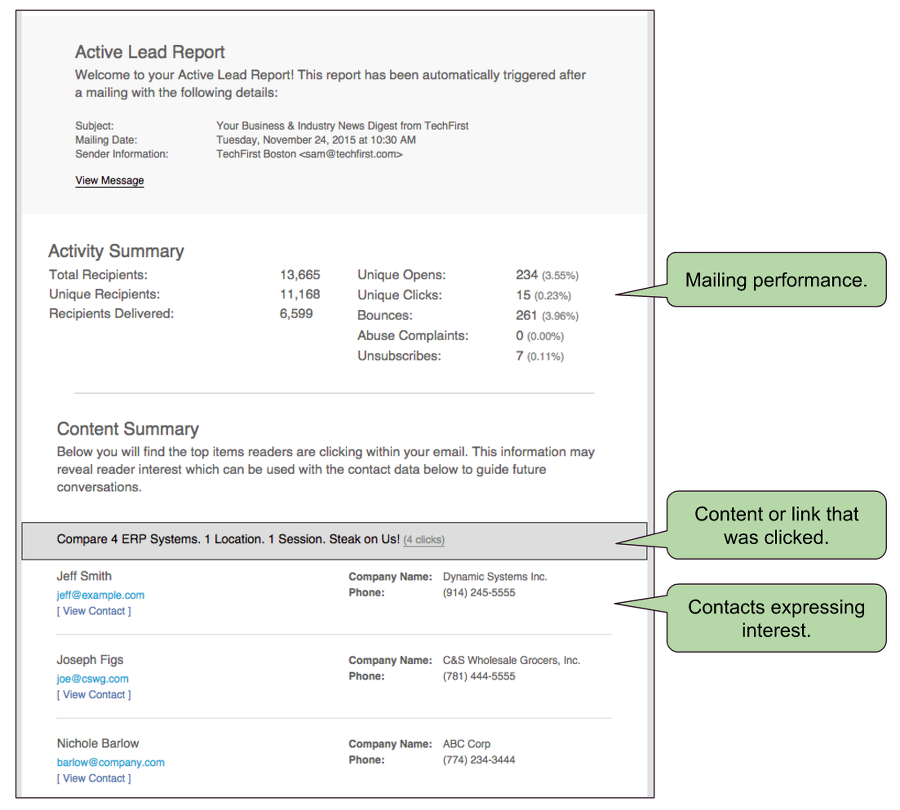 ---
Hosted Microsites and 3rd Party Publications That Drive Leads
Start with a custom branded microsite that incorporates your recent blog posts. This site is maintained automatically and includes an archive of past newsletters. Then, put your content in front of decision makers through 3rd party industry publications.