Content marketing promises the highest ROI compared to all your marketing programs, but it can be one of the most challenging to execute.
In theory it seems simple, you write content and you post content. But in practice, it's much more difficult.  If you want real results, you need a content strategy that encompasses the entire content journey.  It starts with deciding what your audience will read, then writing and curating and pushing that content out to as many channels as possible. The problem is too many content marketers stop there. After generating an initial response, you then need to continue the process and create an echo to gain the highest engagement.  Only with true end-to-end content marketing will you reach the promised ROI.
We know marketers are challenged with time and resource constraints and tend to look at the short term results.  How many views and shares did my content get the day I posted?
The biggest mistake marketers make when developing their content marketing program is the "If you build it  . . ..they will come" Field of Dreams assumption.  Even the best content, needs help attracting readers – just because you are publishing it doesn't mean it will be found.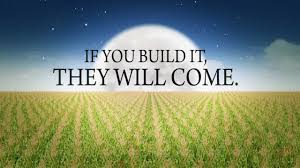 The real results come from a sustained and complete effort. When content is posted to a blog, shared in a newsletter with other relevant content, used in a campaign and then shared again on dedicated microsites – the magic happens.
End-to-end content marketing means completing the entire content journey and enlisting the right tools and services to accomplish it.
The content journey follows the formula of:
Planning out an editorial calendar for at least six months

Combining fresh and relevant content both original and curated

Keeping it fresh by consistently publishing content to your blog, website or separate landing page, an email newsletter, and social media

Promoting your content via independent sites, social sharing games, finding influencers and asking friends to share
ContentMX is the leader in developing successful end-to-end content programs for B2B technology companies. We are constantly innovating new ideas and solutions that result in higher returns on your content investments. Our success is based on solving all the challenges our clients face to drive the results companies need.
As an example of our commitment to drive increased activity for our technology clients, we have developed independent journals that are delivered to top CIO's and industry influencers called http://cybersecurityjournal.org and http://cloudjournal.org.  These two publications are updated with fresh content multiple times each week, are actively socialized on social networks, and emailed to the audience twice a month. The journals provide additional promotion of original content, produce activity and sharing reports and generate actual sales leads —  everything that is needed to close the loop on your content marketing investment.
The task of creating a sustainable content marketing program can be daunting. ContentMX takes your entire content journey into account to provide true end-to-end content marketing.  We provide cost effective solutions including content strategy, original content production, content curation, email newsletters, landing pages and microsites. Our underlying technology enables consistent sharing of your content across multiple channels, including websites, blogs, social media, and our independent journals. We leverage your content every step of the way.
If you are interested in a content strategy that is easy for you to execute and gets real results contact us.  Or, click here to order content.